Best Stocks, Crypto, and ETFs to Watch – Visa, Dollar Tree, Bitcoin in Focus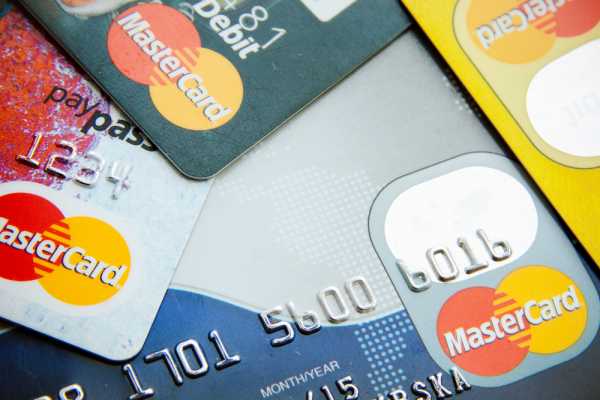 Stocks
Visa Inc. (V) and Mastercard Inc. (MA) sold off last week, battered by projected revenue losses as a result of Russian sanctions. Both companies suspended operations in the rogue state over the weekend, setting the stage for additional losses when equity markets open on Monday. The stocks have lost more than 15% in recent weeks and are testing December 2021 lows that may not hold, given additional losses from reduced international travel, despite the pandemic's retreat.
ABM Industries Inc. (ABM) is New York-based mid cap that provides cleaning and management services for large buildings in the United States and United Kingdom. That's good news in a troubled world that's punishing blue chips with exposure to mainland Europe and Russia. The stock broke out above 4-year resistance in early 2021 and posted an all-time high at 55.48 one year ago, ahead of a correction that bounced at breakout support in December. It's now rallied into a trendline of lower highs, just in time for Thursday's earnings report.
Dollar Tree Inc. (DLTR) incurred the wrath of the mainstream media after 400 stores were closed due to rat infestations. However, the stock has risen to the top of the Nasdaq-100 performance list at the same time, highlighting domestic exposure in a US economy that will suffer as a result of war in Europe. The stock rallied within a point of November 2021's all-time high after a mixed earnings report on Wednesday and could breakout in coming weeks.
ETFs
iShares Dow Jones US Aerospace and Defensive Index ETF (ITA) broke out above an 8-month trendline of lower highs one week ago and reversed near the 2021 high at 113.13. A 19% surge in Lockheed Martin Corp (LMT) underpinned the uptick while Boeing Co.'s (BA) 18.53% weighting kept a lid on gains because it's losing ground due to Russian exposure and the war's economic impact. However, half of BA revenue is booked through defense applications that will generate windfall profits in coming years.
Crypto
Bitcoin (BTC) and other cryptocurrencies have disappointed long-side traders since the outbreak of the war, with a quick buying spike consumed by an immediate decline that now threatens to test and break January and February lows. The digital currency footprint hasn't been heavy enough to mark an important funding source during the conflict while physical commodities, including gold and silver, have posted impressive gains.
Catch up on the latest price action with our new ETF performance breakdown.
 Disclosure: the author held Lockheed-Martin, Aerospace & Gold ETFs, Boeing, and Visa in family accounts at the time of publication.