Book Your Flights! COVID-19 Travel Insurance Has Landed.
Eager to travel again but worried about COVID-19? Great news! You can now protect yourself and your family with Tune Protect's COVID-19 insurance whilst traveling to your favourite overseas holiday destinations on any airline.
The travel insurance product, Travel Easy, addresses some key concerns of those going abroad. Chief among these are medical expenses if one falls sick. You'll be glad to know that Travel Easy will cover your hospitalization bills abroad especially if you fall sick from COVID-19. 
"For most travellers, being hospitalized in a foreign country can be a very expensive affair, costing thousands of ringgit for just one admission. And with the current COVID-19 pandemic, this worry is amplified and that's why we're proud to be among the first few insurers in Malaysia to cover COVID-19 medical expenses for overseas travel", said Rohit Nambiar, Group Chief Executive Officer of Tune Protect.
Being hospitalized overseas is indeed no laughing matter. COVID-19 hospitalization in the US for example can go as high as RM198,000¹. In the UK, while COVID-19 treatment is free even for visitors, medical conditions and complications arising from that infection is chargeable. As an indicator, upfront charges for Infectious Diseases can reach RM68,000 while admission for Accident/Emergency is as high as RM12,700².
Closer to home, median estimates for COVID-19 admission in Singapore is RM77,900³ while over in Thailand, you can expect to pay about RM2,500⁴ per night in a hospital. With medical costs this high, is it any wonder that getting good travel insurance coverage is absolutely necessary when venturing overseas?
Travel Easy's COVID-19 enhancements comes at a time when many countries are beginning to ease entry restrictions. The Malaysian government is also looking at more VTL agreements with its neighbouring countries and this protection plan is designed to meet the immigration requirements of these countries and offers a slew of attractive benefits.  
Comprehensive COVID-19 coverage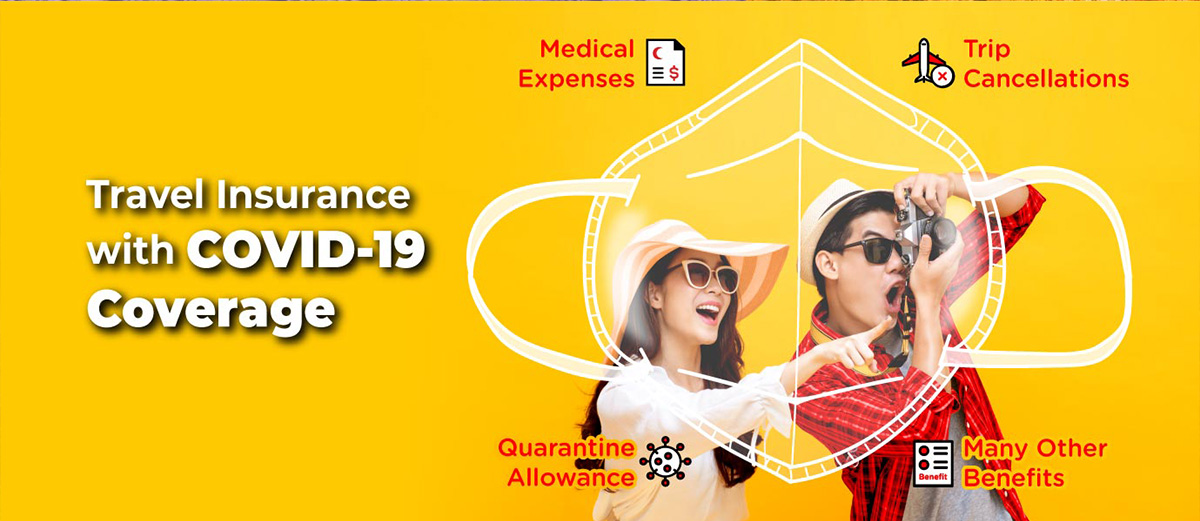 Travel Easy offers two COVID-19 plans, COVID Lite and COVID Plus. The latter is the premium plan and offers coverage for COVID-19 hospitalization expenses (Stages 3 – 5) for the first 30 days of trip duration of up to RM250,000 (per individual) and up to RM750,000 (per family).
You can also claim a compensation of RM350 for each full day of hospitalization. If you require evacuation or repatriation back to Malaysia due to COVID-19, Travel Easy will cover the expenses for up to RM500,000 (per individual) and up to RM1,500,000 (per family).
What if you're diagnosed with COVID-19 overseas and are quarantined? You'll be glad to know that you can claim a quarantine allowance of RM100 per day. Coverage also includes trip cancellation and trip curtailment (trip cut short) and Travel Easy will even cover the travel expenses for a family member to visit if you're hospitalized overseas.
"We want our customers to be well taken care of if they go abroad. We are travellers ourselves and it can be a harrowing experience if you fall sick in a foreign country, that's why we offer comprehensive COVID-19 coverage with Travel Easy so people can enjoy their holiday with peace of mind," Rohit emphasized. 
Offering great value online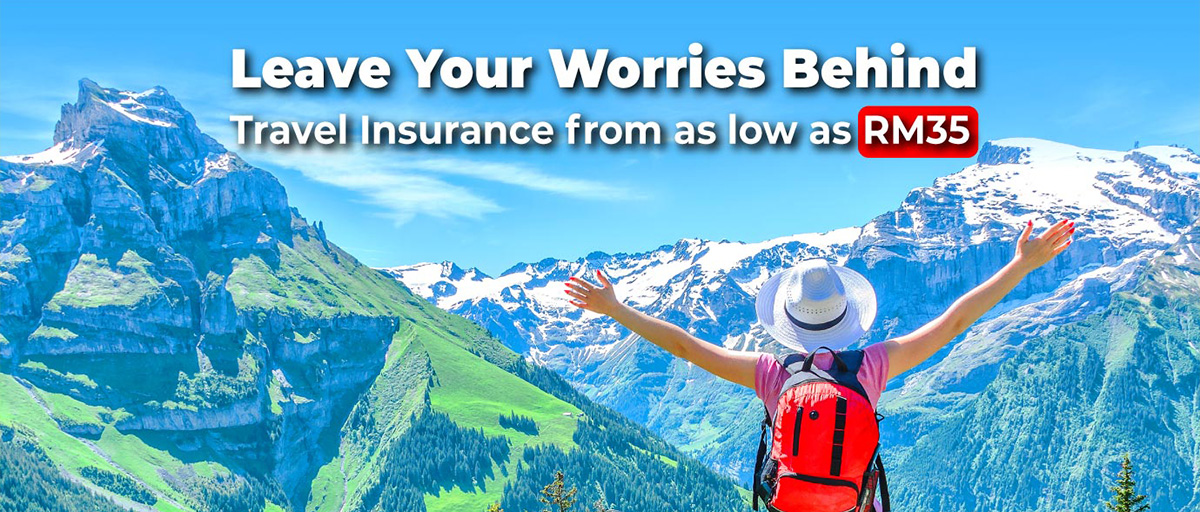 Travel Easy comes with a whole baggage-ful of existing benefits together with the enhanced coverage. For example, you have access to a total of RM300,000 per person to pay for non-COVID-19 medical expenses and up to RM900,000 per family⁵.
The list of covers goes on – Personal Accident, Travel Delay, Baggage Damage and Delay, Loss of Travel Documents and Personal Effects and many more. All benefits which you would already be accustomed to as a seasoned traveller.
And the price for all of this? As low as RM35 per trip. You enjoy an instant discount of 25% when you purchase Travel Easy insurance online. The rates are especially attractive for those interested in travelling to Europe and the United States.
"We're keeping our prices as low as possible whilst ensuring optimum coverage to maximize value for our customers. We're really excited for 2022 and beyond, as we see travel starting to pick up. We want to be there for travellers as they take to the skies again," Rohit concluded.
Travel Easy caters for Family and Group travel too and is available for any airline you choose to fly with. To find out more about Travel Easy, its plans and rates, please visit their website.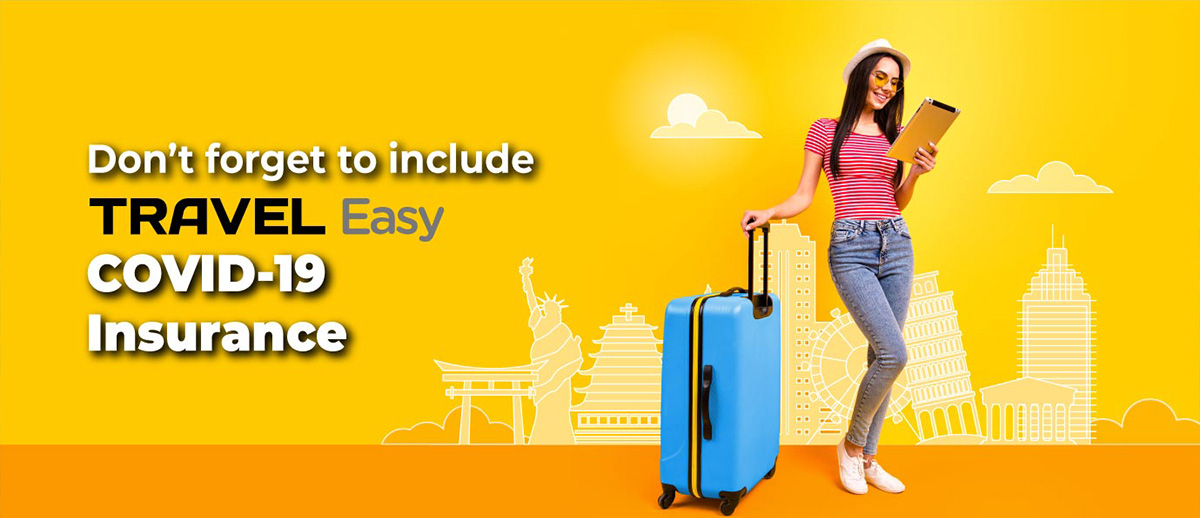 ---
References:
¹ US National Library of Medicine
² UK National Health Service 
³ Ministry of Health, Singapore
⁴ Expat Den
⁵ Combined limit of COVID-19 and non-COVID-19 Medical Expense of not more than RM300,000 per person and RM900,000 per family.